[ad_1]

We've recapped of the hottest headlines, announcements and arts news that shaped the zeitgeist this past week.
Our top stories this week
Jump to:
Be in the know
What's on
Review highlights
$100M pledged to NGV Contemporary
The Fox Family makes the largest cultural gift for a capital program ever to an Australian art museum by a living donor.
They said no, but we still bought the building
How a regional community of artists cemented its future.
So you want my arts job: Aboriginal Art Centre Manager
Working remotely on Country has its challenges, but also its rewards. Bryce Hartnett of Keringke Arts spoke with ArtsHub about being an Aboriginal Art Centre Manager.
Exit interview: Rick Heath, Black Swan State Theatre
After a two year tenure that began just days into COVID's reign, Co-CEO Rick Heath is calling time on what's been an unforgettable leadership role
Why is confessional theatre so hot right now?
Is a recent wave of confessional-style theatre revealing defining themes of our times?
Etsy sellers boycotting the platform over transaction fees
Sellers are accusing Etsy of 'pandemic profiteering' after the company announced a 30% fee increase.
Be in the know
NAME CHANGE: The Jewish Holocaust Centre has announced that from late April, they will be changing their name to the Melbourne Holocaust Museum (MHM). It comes as the major redevelopment of the building – 3 years in the making – nears completion later this year. The new branding comes with a new logo that incorporates the Star of David. Wednesday 27 April is Holocaust Remembrance Day (Yom HaShoah). 
Read: International shows and art fairs in 2022
ACQUISITION:  Within sight of the National Gallery of Australia's Jeffrey Smart exhibition closing, the gallery has purchased Near Knossos (1971), painted in the year the artist moved to Tuscany (Italy). It joins 17 paintings and 11 works on paper by Smart in the national collection, most of which date from the late 40s and 50s – making it an important addition of his later work.
MASTERPIECE FOUND: A recent art restoration project commissioned by the National Trust (NSW) has revealed a valuable 17th century painting from the Dutch Golden Age. Known simply as Still Life (c. 1625-1649) and attributed to Gerrit Willemz Heda – son of the famous Dutch 17th century still life painter Willem Claes. It has been suggested the work may have been a father-and-son collaborative artwork. Heda's works are typically valued in the millions of dollars.
The painting was housed for many years in what is currently known as Woodford Academy in the Blue Mountains. The building, along with its contents, was gifted to the National Trust (NSW). Still Life will be on special display as part of the 2022 Australian Heritage Festival, on Saturday 14 May 2022, from 10am – 3pm. The theme of the 2022 Australian Heritage Festival is #Curiosity and this year's program features more than 200 free and ticketed events and activities across NSW (and more nationally). The 2022 Australian Heritage Festival is now on until 31 May.
AUCTION: Bonhams Australia will auction a substantial number of significant and deeply personal works from philanthropists Gene and Brian Sherman's contemporary art collection in the forthcoming auction SHERMAN | 100, to take place on Wednesday 11 May 2022.
SHERMAN | 100 includes work by Isabel and Alfredo Aquilizan, Shaun Gladwell, Petrina Hicks, Zhang Huan, Janet Laurence, Mike Parr, Greg Semu, Tim Storrier, Imants Tillers, Guan Wei, Ai Weiwei. View catalogue.
MAJOR GIFT: The Perth Institute of Contemporary Arts (PICA) has received a major donation that will support a new decade long commissioning program for Australian visual artists. A gift of $300,000 from Tom, Genevieve and Jamie Simpson will establish the Judy Wheeler Commission, a new 10-year site-specific commissioning program at PICA.
NFT NEWS: White Cubeless, an Australian online contemporary art gallery, has launched this week (21 April) with a curated exhibition of digital art NFTs by professional artists. Co-founded by former Vivid Sydney light program curator, Lucy Keeler, who said: 'We created White Cubeless to support and grow established digital artists, traditional studio artists, and talented emerging hybrid artists seeking new routes to market, beyond the 'white cube gallery.'
White Cubeless is described as a traditional gallery, in a virtual space, that makes premium quality, investible and collectible digital artworks available as NFTs. The platform was entirely built in Australia and operates on an independent backend, to enable White Cubeless to mint its own NFTs and scribe the corresponding smart contracts.
Quick dates for the diary
RESCHEDULED: Bell Shakespeare has rescheduled their upcoming production In A Nutshell from April to 4 – 7 August 2022. Set to be the first performance in the company's new theatre space at Pier 2/3 at Walsh Bay Arts Precinct, the rescheduling comes due to circumstances relating to COVID-19.
SAVE DATES: The 2022 National Indigenous Art Fair (NIAF) has announced it will held at Sydney Harbour's Overseas Passenger Terminal, in The Rocks, Saturday 2 – Sunday 3 July 2022, launching NAIDOC Week.
2023 DATES: Parrtjima – A Festival in Light 2022 has wrapped up its seventh successful year in the Red Centre, with more than 23,000 attendances, and organisers confirming the much-loved free event will return in 2023 from 7 – 16 April.
UPCOMING: Semi Permanent has now released its full program for its Sydney 2022 festival of creativity and design. The three-day event will include 50 speakers. While the talks program at Semi Permanent is ticketed, the overarching event is free to attend and this year comprises an expanded visitor experience including exhibitions, installations, pop-up stores, nightly DJ sets, and an art and design book fair. At Carriageworks from 25 – 27 May 2022.
What's on
ARTIST FOR UKRAIN (LIVE / ONLINE): On Thursday 28 April at The National Theatre Melbourne, and streamed live online, the Festival of Jewish Arts and Music (FOJAM) will present When Women Speak of War: Artists Reckon with Wars Declared and Hidden, co-curated with Ukrainian Jewish-Australian writer and cultural historian Maria Tumarkin.
Conceived of well before the invasion of Ukraine, this event has become an act of resistance, and has a palpable sense of urgency, with its line-up of outstanding artists grappling with the trauma of genocide and war across distinct but deeply interrelated contexts.
Read: Women artists reckon with war
NEW FESTIVAL (VIC): For 11 days this autumn, Drift will bring Mornington Peninsula venues and spaces to life with art from all disciplines including performance, music, visual arts, public art installations, film and projections, writing, culture and heritage in a new festival. Over 80 experiences make up the inaugural program from 21 April – 1 May.  Check out the program.
Additional to their support of Drift, the Mornington Peninsula Shire has announced a $500,000 funding program to target creative organisations and individuals working in the performing arts.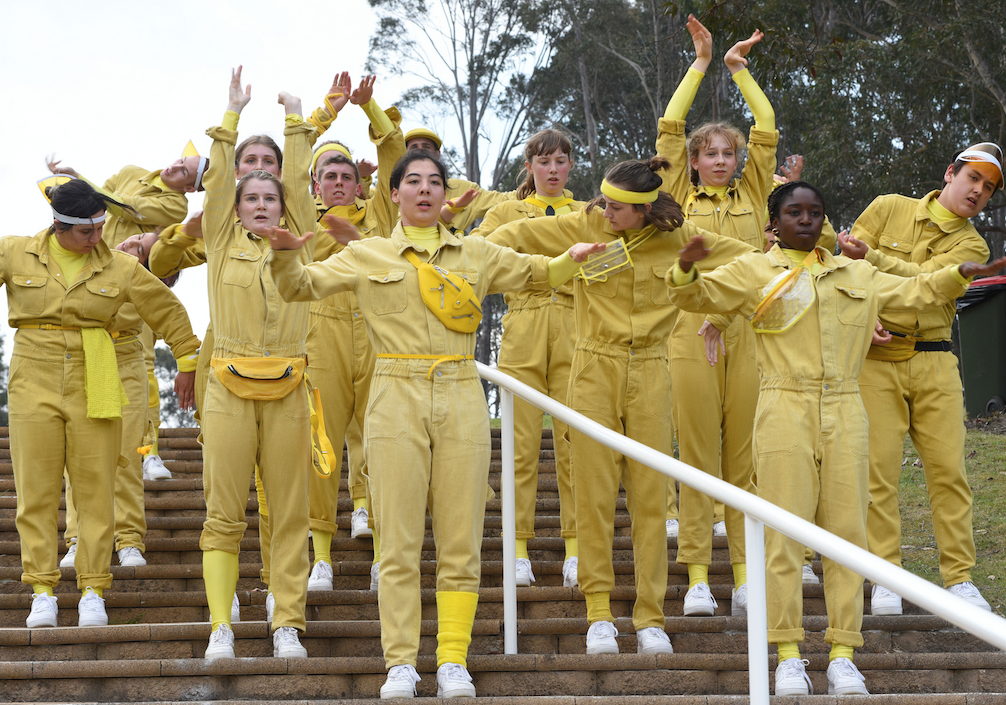 DANCE EVENT (NSW): The Sydney Opera House has announced a free site-specific work, ENCOUNTER SYDNEY on the Opera House Forecourt, as part of the initiative Culture Up Late. It will be performed daily from 4.30 – 5pm, 18 – 21 May. Free.
Directed by dancer, choreographer and curator Emma Saunders, ENCOUNTER SYDNEY has been developed in collaboration with FORM Dance Projects, writer Felicity Castagna and composers Amanda Brown (The Go-Betweens) and Jodi Phillis (The Clouds). Performed by young dancers from the Western Sydney based WE ARE HERE Company.
IMMERSIVE SOUND ARTWORK (VIC): The Planting – a new immersive audio work in the form of a sound-feature – will have its world premiere in Melbourne as part of the live program of ANAT SPECTRA 2022: Multiplicity. The Planting is directed by artist and filmmaker Alex Kelly and is set in 2029. It explores the future impacts of climate change, social movements and caring for Country across the continent of so-called Australia. 
Composed and sound designed by Lawrence Harvey of RMIT's Spatial Information Architecture Lab, The Planting has been created for a spatialised 'speaker orchestra'. The work will close the live program of ANAT SPECTRA 2022: Multiplicity at 4pm this Saturday, 23 April at Storey Hall, RMIT, Melbourne.
WRITERS FESTIVAL (QLD): The 60th anniversary Brisbane Writers Festival (BWF) program has been revealed, with a city-wide celebration of more than 200 events taking place over six huge days from 3 – 8 May. The program has been shaped by guest curators Ellen van Neerven, Benjamin Law, Anne-Marie Te Whiu, Michaela Kalowski and Rhianna Patrick.
Among a range of exciting new initiatives is Our Country of Focus, which presents more than 30 Aotearoa New Zealand and Pasifika talents, most of whom are new to BWF audiences. Runcie said: 'Whether it's spoken word poetry of New Caledonia, vital feminist writing from Samoa, or pocket poetry from Papua New Guinea, we have so much to inspire literary adventuring.' Check out the full program of free and ticketed events.
QUEER THEATRE (VIC): Weaving comedy, drama and romance, the Lab Kelpie production, Become The One, will show at Geelong Arts Centre on 3 – 7 May. It was the winner of the Midsumma Festival Playtime Award for New Queer Writing, and is a smart and challenging romantic comedy that explores why a footballer would choose to remain closeted, and why their openly gay partner would choose to accept it.
FIRST NATIONS (ACT): Canberra's Drill Hall Gallery has opened the exhibition Heart of Country, which explores the diverse relationships to Country by four generations of artists from Arnhem Land and beyond. Core works come from a private collection of bark paintings assembled by Donna-Marie Kelly and Andrew Dyer, featuring works from Yirrkala, Ramingining and Maningrida, and an important suite of works by Garrwa artist Jack Green, which highlight the trauma of the usurpation of his ancestral lands and devastation by corporate Australia. The exhibition runs from 16 April – 12 June.
JAPANESE CERAMICS (SA): Opening 21 May, Pure Form: Japanese sculptural ceramics uncovers the story of a daring ceramics movement that emerged in mid-20th century Japan following the Second World War. Across more than 100 objects made from earthenware, stoneware and porcelain, visitors can witness how ceramics were redefined for a new age, favoured form over function, and fostered the emergence of female makers as a creative force. At Art Gallery of South Australia, until 6 November 2022. Free.
BLOCKBUSTER (VIC): The blockbuster exhibition, Open Horizons: Ancient Greek Journeys and Connections takes visitors on a journey through Ancient Greece exploring how the trade of ideas and goods influenced Greek culture and the ancient world. It opens at the Melbourne Museum this weekend.
CROSS-CULTURAL (NSW): Curator by Nicholas Tsoutas, MATERIAL GIRRRL 万物生辉 showcases 11 Chinese and Australian women artists, and explores the attitude and understanding of social life from female perspective, celebrates the value and the values of women today, and highlights feminine power and feminine wisdom. Showing at the China Cultural Centre in Sydney until 27 May.
SPACE EXHIBITION (VIC): National Archives of Australia's touring exhibition Out of This World: Australia in the space age has landed at Victorian Archives Centre, where it is showing until 17 July. This fascinating exhibition looks back to 1950s through to the 1970s, when Australia played a key role in space research and exploration. Free.
NEW GALLERY (VIC): Project8 is a new contemporary art gallery on Collins Street, Melbourne, which opens on 6 May with the project Sounds of Unridden Waves by the Ghosts of Nothing (Sean Lowry and Ilmar Taimre). It is a major new work developed over a three-year period in collaboration with leading artists and filmmakers, and consists of an immersive video installation, paintings, photographs, scholarly texts, original musical works and related objects. Sounds of Unridden Waves is the first feature length surf film not to have any human surfers. Project8 is dedicated to promoting speculative poetic and material innovation through exhibitions and related events.
NEW FESTIVAL (VIC): The inaugural South Side Festival will be held over nine days from 6 – 15 May, featuring close to 230 artists in over 50 performances in venues across Frankston (VIC). Check out the program. Among the highlights is the self-guided event The Frankston Generator, conceived by Mandylights – the international design team responsible for some of the most successful touring light artworks in the world.
WRITERS FESTIVAL (NSW): The Words on the Waves has announced their lineup of authors joining the Central Coast (NSW) festival from 3 – 6 June. It is the first festival of its kind for the region, and in only its second year has managed to attract some really wonderful and diverse writers. Both the venues have a 180-degree view of Broken Bay. Nikki Gemmell said of the festival last year: 'This is the most beautiful literary festival in the world!'
Want more? Visit our Event page.
Review highlights
Comedy review: Zoë Coombs Marr, Dave the Opener ★★★☆
Gender bending comedy that takes a swipe at reprehensible male comedians.
Theatre review: The Twits ★★★★☆
Dahl's classic novel for kids comes alive on stage with scrumptious glee.
Exhibition Review: John Olsen Goya's Dog, Ngununggula ★★★★☆
A fresh take on touring iconic artist John Olsen, adding regional connections
Book Review: The Writer Laid Bare, Lee Kofman ★★★★☆
A multi-layered memoir of literary wisdom.
Dance review: Benjamin Hurley's UpAndUpAndUpAndUp ★★★★★
A captivating performance from a rising star.
Head to our Reviews page for more.
[ad_2]

Source link