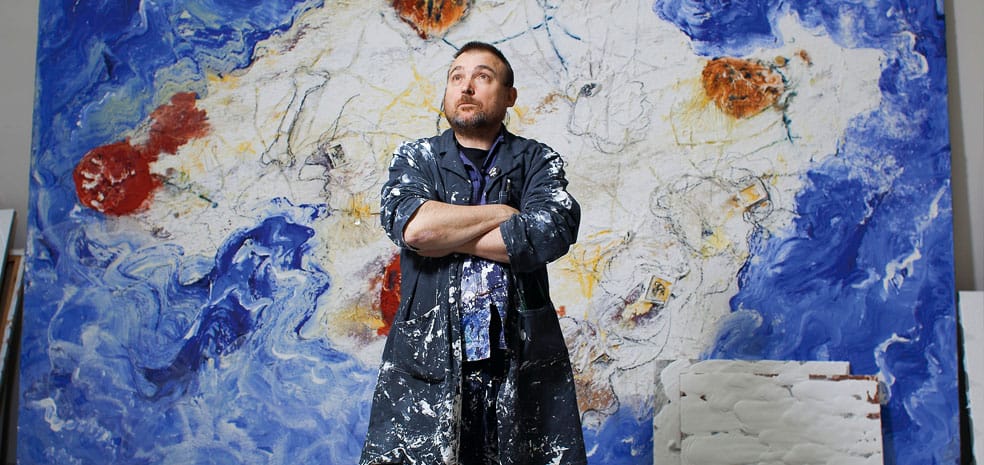 Contemporary art has significance for its historical value as it is a product and witness of a specific era and time. They enable us to gain insight and state and discuss certain socio-cultural, political, or ideological developments, raising awareness and encouraging debate. There is no doubt that this could be a good diversification for an investment portfolio, irrespective of the stock market crash.
Buy contemporary art online that is more about concerns and ideas rather than solely aesthetics. Contemporary artists try several ways of experimenting with materials and ideas.
Choosing Contemporary Modern Art as Original Paintings
Contemporary art is a dynamic combination of methods, materials, subjects, and concepts that defy definitions and challenge traditional boundaries.
Modern art is diverse and eclectic, distinguished by the very lack of an ideology, uniform organizing principle, or -ism.
This is observed by the artists' intent to define various subjects as they are in real life, as per their unusual perspective. Modern artists reject traditional or accepted values and styles.
The most distinct quality of modern art
1. It has no single characteristic.
2. Modern art concentrates on imperfections and never creates an ideal rendition of a subject.
3. In conjunction with a scene, the portrayal of an impression is an important step in creating the modern artist's innovative and unique perspective.
4. Modern art is diverse and eclectic, distinguished by the depletion of a uniform organizing ism, principle, or ideology.
5. Modern art is abstracted at times.
6. Contemporary paintings showcase subject matters that the traditionalists consider lewd, controversial, or even downright ugly.
7. Modern art is about originality.
The prominent content of modern art is modern life. Modern artists are interested in challenging the orthodox school of painters by rejecting their form of art. You can buy modern art online in any medium or form elicited in the present day based on the seven aspects of colour, form, line, space, shape, texture, and value. Such paintings encourage debate and give you food for thought. All you need to do is browse for original paintings for sale. The search result will help you choose the right one.
Some Modern Paintings for interior decoration
Veena Advani's Bonded, Ikat Nude, Bedrock, Ikat King, Flower Study, and Swept away.
Sekhar Roy's Jolly Woman in a lotus pond and Bengal's tune.
Ganapati Hedge's Radha Krishna & Panchamukha.
Chandra Bhattacharjee's Meditate, Gaze, fleeting moments, and a woman amongst flowers.
Subrata Gangopadhyay's Dandia, and Sindoor Khela.
Some Contemporary Artists to choose from
Veena Advani is well known for creating abstract paintings which are intricately layered. They explore identity, the natural world, and the themes of relationships. She loves to experiment with embroidery. The textural components are transcendental.
Sekhar Roy portrays life through hues. His artworks comprise vivid strikes and bright colours. Roy loves to depict Lord Krishna, the distinguished mythological character of India. He portrays the divine character as an excellent combination of love, passion, conscience, and thereby making the essence of his paintings.
Based in Bengaluru, Ganapati Hegde is a nature lover who portrays nature with incandescence in his paintings. The sense of beauty and wonder around us is the most distinguished theme of his creation.
The artworks of Chandra Bhattacharjee are distant from the urban world. Far away from the madness of everyday city life, Dusky men and Women in an ethereal realm are subjects she chooses for her canvases. Most of her works have tribal and rural influences. She applies subdued and vibrant colours for her portrayals. Her creations know no boundaries. Through her cross-hatching technique, she makes a world where people, animals, and surreal creatures share harmony.
Gangopadhyay has an artistic vision which is marked by a sense of movement coupled with a vivid array of colours and swirling. With his brushstrokes, he can create charm and magic. His is an expressionist format founded on academic realism.
Go for Original Pieces
Original paintings attract art connoisseurs. One of the incredible aspects of original paintings is that they retain trial and error over the years to refine the crafts. It gives rise to a sophisticated mix of materials, techniques, and vision which is much more prominent in the original ones compared to the digital prints.
If you are an art lover and take an interest in original contemporary paintings, visit reputable stores like Artshoppy.com.
Original art and its aesthetics
Usually, original paintings are handcrafted and great for aesthetics.
They are praised for originality.
The canvas depicts all the colours an artist chooses.
You can find the nuances in brushwork and texture.
Buy art online in India that has depth.
Buying original artwork is an adventure. Here you can enjoy the experience of visiting the artist in person, appreciate their feeling behind each of the creations, and hear their side of the story.
Original paintings help create a powerful emotional connection.
Original oil paintings are richer than digital prints as they express the consummation of the artist's discoveries to that point of a creative journey.
Such possession is worth the investment value.
Perhaps the quintessential purpose for buying original paintings is that you can support the artists in your community and so much so painters around the globe by connecting them digitally.
Choosing Original over Reproductions
The most significant decision you can make while collecting artwork is choosing original over reproductions. The essence of art doesn't depend on its creativity but on the one-of-a-kind characteristic that makes it rare.
On the other hand, digital prints are reproductive ones, or posters, produced in greater numbers with the help of a printing machine. Generally, original paintings are far more expensive and valuable than reproductions because of their difficulty in scarcity, production, and quality.
By now, you must be impatient to decorate your place uniquely. So let's visit a reliable website like artshoppy.com, where you can get original paintings at an affordable rate.
Thinking of the lofty price? Never mind, you don't have to be a billionaire to acquire an original art piece.
Artists of original paintings use traditional mediums that have existed, developed and enriched over time. At the same time, digital art uses cutting-edge digital technologies to produce an art piece.
Prints of paintings are flat pieces of photo paper with a dot matrix pattern. You can also find similar patterns in book images and magazines. Original Paintings have uneven and irregular paint on the edges of the canvas. In comparison, a Print has sharp, clean, and even edges.
Final Thoughts
Decoration with paintings is a sign of sophistication which is motivating and fulfilling. However, they are a bit pricey. Buy what you can afford. Prints in the form of art also can be an excellent option.
Buy art online to enhance the beauty of your living room. Check out the online store to buy your artwork. Never forget to check the website, and read blogs with enriched information about the art and art seller before you purchase their works. A secured transaction system and a fair structure of pricing help.
You can choose a canvas that is made of Ivory sheets, Silk, Rice Paper, Cloth, Thick Paper, etc. Artists use materials like Charcoal, Fabric, Acrylic colours, Natural Colors, Oil Colors, etc. Creating the right balance helps to shortlist the paintings.